TV Wartburg
TV Wartburg the smallest and most remarkable television station of the Netherlands. Or maybe better… the most charming and intimate open-air cinema. Or is it a game station? At any case, it is the narowest Wartburg ever made, and it has two huge screens on its roof.
Radio Barkas
Tristan Kruithof has a knack for taking cars and making them into beatifully fun installations for summer festivals. I first met him at Sziget festival in Budapest, where I was taking panoramic images and he was performing with Radio Barkas.
The TV Wartburg is the brainchild of Tristan Kruithof. He took a classic Wartburg 311 and removed 60 cm from its width. Then he put two faux-projection-screens on its roof. Originally he intended to use the screens to display vintage video material, such as an awesome collection of scopitone music videos and vintage cartoons for the children's matinee.
When Tristan asked me if I could give him some software and hardware advise, I jumped at the opportunity. I ended up writing a basic remote controllable jukebox for the Wartburg tv station. Since then we've been dreaming up new applications for the installation to take the summer festivals by storm.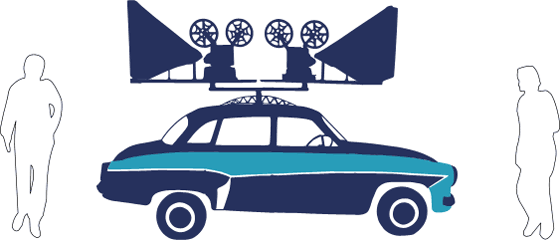 The first new application is a special anaglyph stereo version of the classic game PONG, controlled using two Arduino-controlled trackballs on opposite ends of the car. The use of anaglyph glasses and trackballs is a nice match with the vintage look of the installation, and it draws quite a crowd wherever the game is played.
And we're only just beginning.
For more information about the TV Wartburg, contact Tristan.
TV Wartburg premiere at Tweetakt, Utrecht
PONG Legacy premiere at Clash 2011, Groningen