Trajectum Lumen
The St. Willibrord Church in the city center of Utrecht is a prime example of the Gothic Revival architecture. The richly decorated church interior is, unfortunately, one of the best kept secrets of the city. As part of the
Trajectum Lumen
project, I was given the opportunity to shed some light on the beautiful church, from the outside.
Trajectum Lumen
Trajectum Lumen is initiated by the city of Utrecht. It is an exploration after dark, following artistically lit locations throughout Utrecht's historical city center. It was launched in the spring of 2010 and will reach its climax in 2013 when Utrecht celebrates the 300th anniversary of the Treaty of Utrecht
The assignment brief focused on drawing attention to the church and its spectacular interior during the evening hours in a respectful manner, taking into account the monument status of the church and its active use, all within a limited budget. The light art installation was to require as few changes and additions to the building as possible, and all of them fully reversible. On the other hand the installation had to be durable enough to last at least 10 years.
In my installation, scenes and elements taken from the interior of the church are projected onto the inside of the church porch. This church porch is on the walking route of the Trajectum Lumen, and is one of the few parts of the church actually visible from the street and recognizable as part of a church building.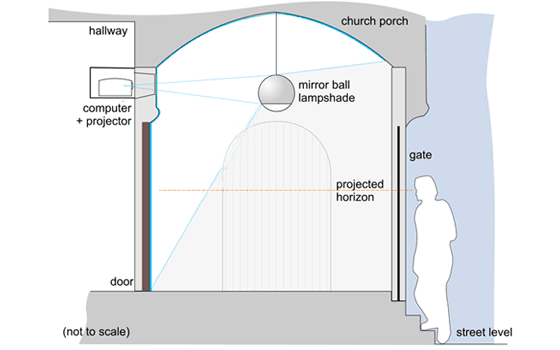 A specifically pre-deformed series of videos is projected onto a spherical mirror lamp suspended from the porch ceiling. The projected image, when viewed from the street level, a faux-perspective or Trompe L'Oeil showing elements of the church interior.
To achieve this optical illusion effect, I developed a calibration method where I determine where each pixel in the projection ends up on either of the walls, doors or ceiling, without having to create a minute 3d representation of the porch geometry, the spherical mirror and the projection optics. As a result of this calibration, I can project any color to any spot of the wall, thus building up any image I want.
The projected material is a deliberately eclectic series of shots, combining panoramic timelapse and dolly sequences with 3d reconstructed paintings and geometric decorations.
Initial concept presentation
Proof of concept installation in the St. Willibrord church
Completion of the final installation
Public presentation and launch of the project
Opening of the Trajectum Lumen route